Creating a better way to share knowledge for the mobile generation
ExpertMe is a passion project focused on humanizing the process of choosing a career. With integrated filtering and messaging, ExpertMe connects curious individuals with working professionals by emphasizing 1-on-1 interactions and simplifying the transfer of industry knowledge.

You can view the InVision prototype here.
MY RESPONSIBILITIES
Product Ideation, UX Design, Visual Design, Brand Identity
TOOLS USED
Sketch, Adobe Illustrator, Draw.io, Google Suite, InVision, Usability Hub
Project Overview
The Problem: In America, the expectation to choose a career early in life is an overwhelming and stressful time for many young students. Currently, there are not many options for career advice or industry insights that take advantage of new technology while emphasizing in-person interactions.

The Solution: An easy way to meet professionals working in an industry that is specific to a student's changing interests. ExpertMe provides an inclusive application that emphasizes one-off, in-person communication between a "Learner" and "Expert." These face-to-face interactions promote relationship building, active listening, and direct responses to any questions that may occur.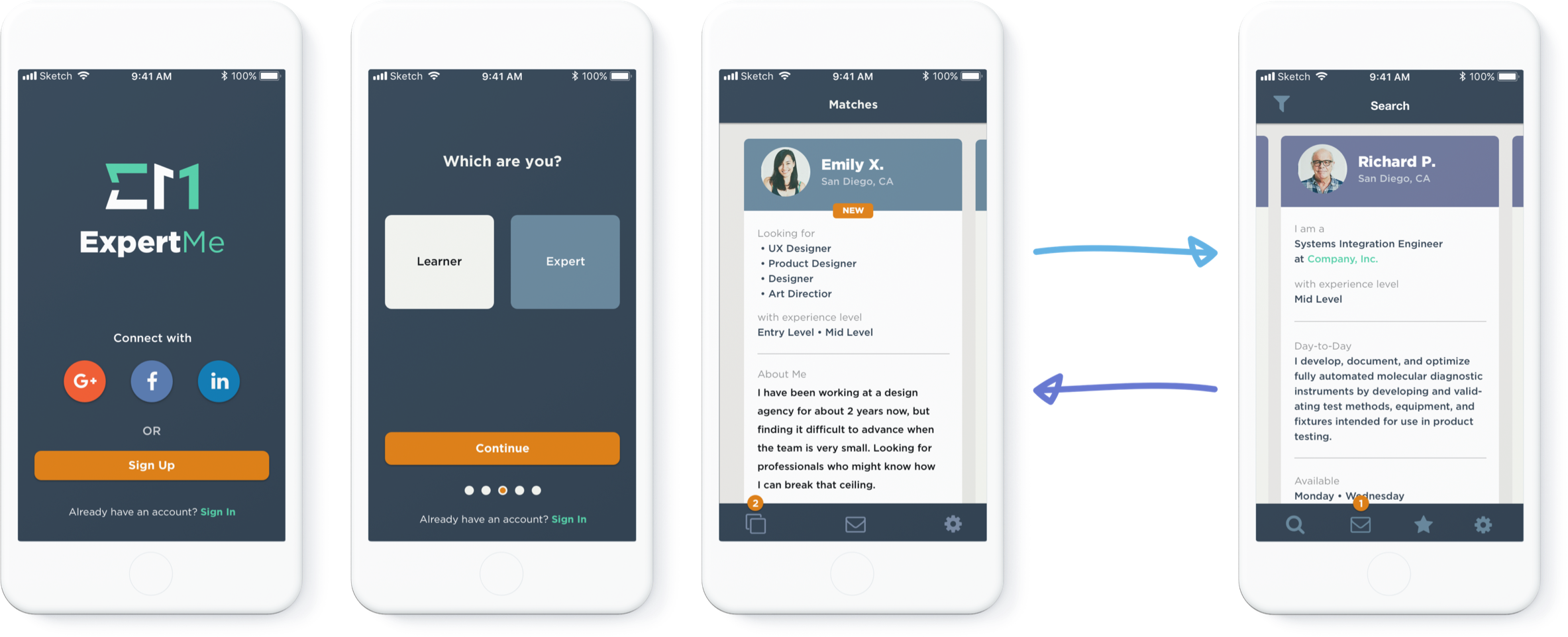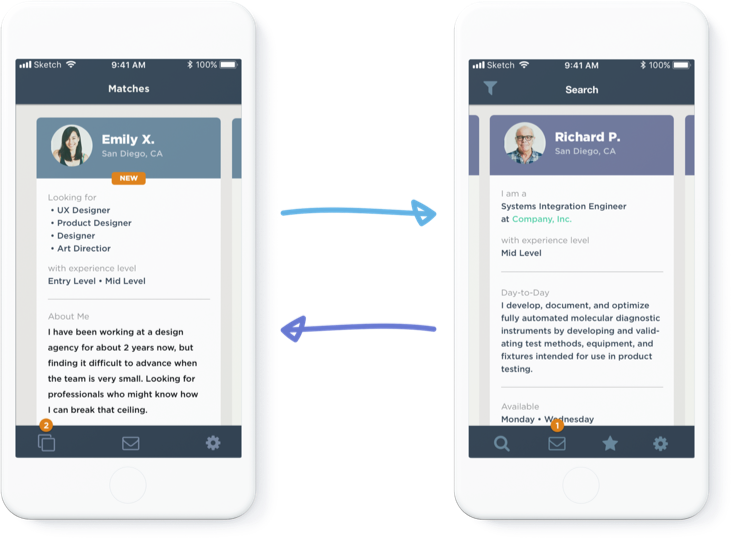 Our Approach
1
Gather information through Google Surveys, a competitive analysis, and user interviews to better understand ExpertMe's market potential.
2
Create User Stories and User Personas to align with ExpertMe's potential users and begin creating user requirements.
3
Develop a brand identity, logo and style guide to help visualize the two-end-user mobile app.
4
Sketch wireframes, userflows, and design low to high-fidelity mockups for a workable prototype.
5
User test the prototype on mobile. Make iterations and improvements to the design.
Understanding the User
Being a two sided market, my initial approach was to validate the problem by proposing two main questions: (1) Are you currently employed? & (2) Are you currently working in the field you graduated in? By using Google Surveys and asking these two questions, I began to learn more about the participants' career progression.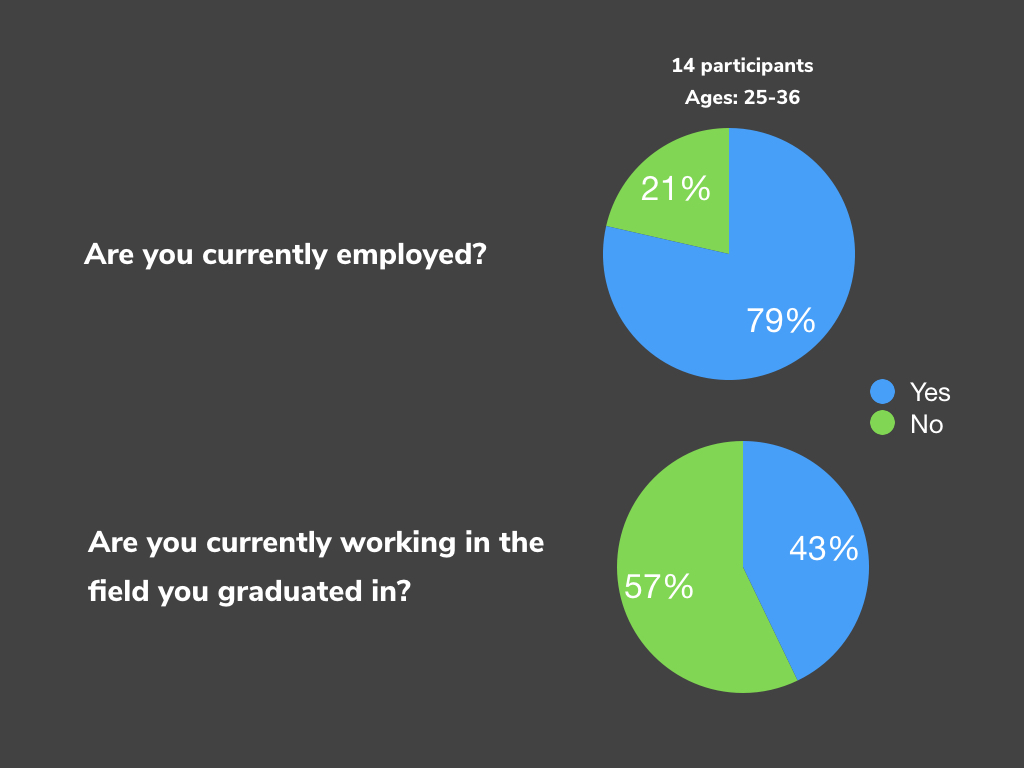 About half of the participants are currently not working in the field they received a degree for. Either this meant some participants could not find work in their field, or that some individuals lost interest. For the participants who may have lost interest, I was curious on how they went about gathering new information, and if there was a way to optimize that process. Follow up questions in the survey were on the topic of mentorship and the act of giving and receiving advice. The majority of participants received some level of career advice from either a mentor, counselor, family or friend, stating that it was always beneficial. View User-Survey Analysis
USER RESEARCH HIGHLIGHTS
13
participants had received career advice, were comfortable with in-person meetups, and were willing to pay a small price to do so.
72.7%
8 out of the 11 who are currenlty employed are not working in the field they graduated in. Why is this so? What type of career advice did they seek?
85.7%
have experience giving career, relationship, and personal advice in the past. Would they be willing to give advice to strangers?
Understanding the Competition
When examining today's market, there was a lack of mobile options. I needed to reframe my search to older, but proven methods. Job shadowing and mentorships have their place in the world, but unfortunately they require a significant amount of time and effort for the employee or mentor. University's career services, although helpful, are confined to only assisting current students and alumni. Other applications and services, such as Meetup, provide broad networking engagements, but may fall short on meaningful connections due to the large amount of individuals attending.

View SWOT Analysis
DIRECT COMPETITORS


Identifying the User
I developed user personas from individuals that provided diversity during the user-interview phase, e.g. age, educational background, current profession, and thoughts on career advice. When comparing them side-by-side, I noticed that their goals were surprisingly similar...wanting to find a career where they were valued, consistently improving, intellectually stimulated, and financially stable.

View User Personas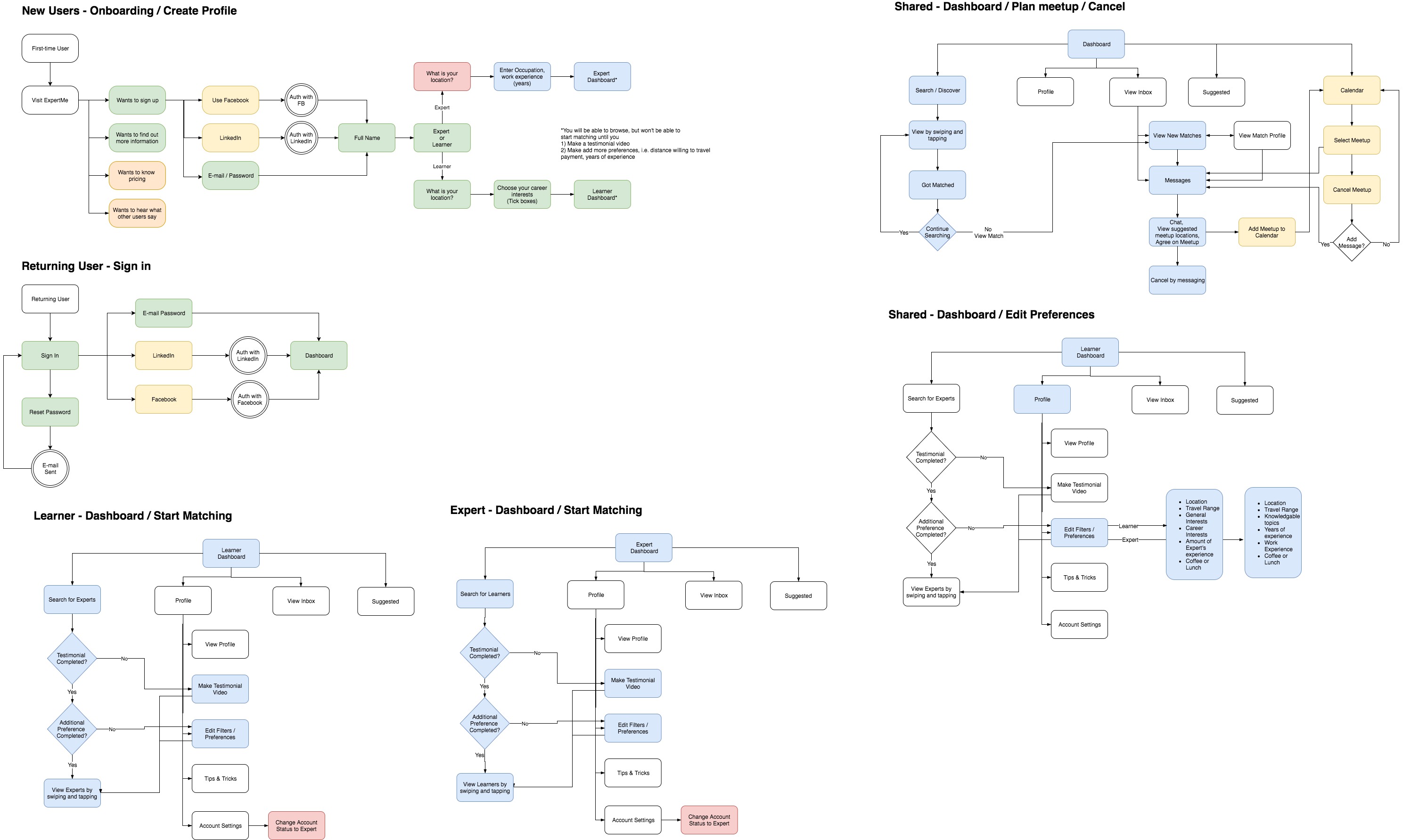 Developing User Flows
Creating a MVP early in the process allowed me to identify any pain-points for either the Learner or the Expert's experience, and gave me the ability to iterate quickly to resolve those issues. ExpertMe's on-boarding processes needed to have enough information about the user to become a valuable participant, but not require too much that a user would get annoyed and leave the app. It was also important to focus on the different flows for the Learner and Expert, and to provide a clear and user-friendly method of communication between them.

View User Flows View User Stories
Developing a Brand Identity
My goal in branding was to create a product that was approachable and enjoyable, yet maintained a sense of professionalism throughout the experience. Additionally, I wanted to design unique user flows for both the Learner and Expert. I started by creating a clean and simple logo that highlighted the 1-on-1 nature of the application, and relied on contrast to evoke the idea of two individuals. View Logo Process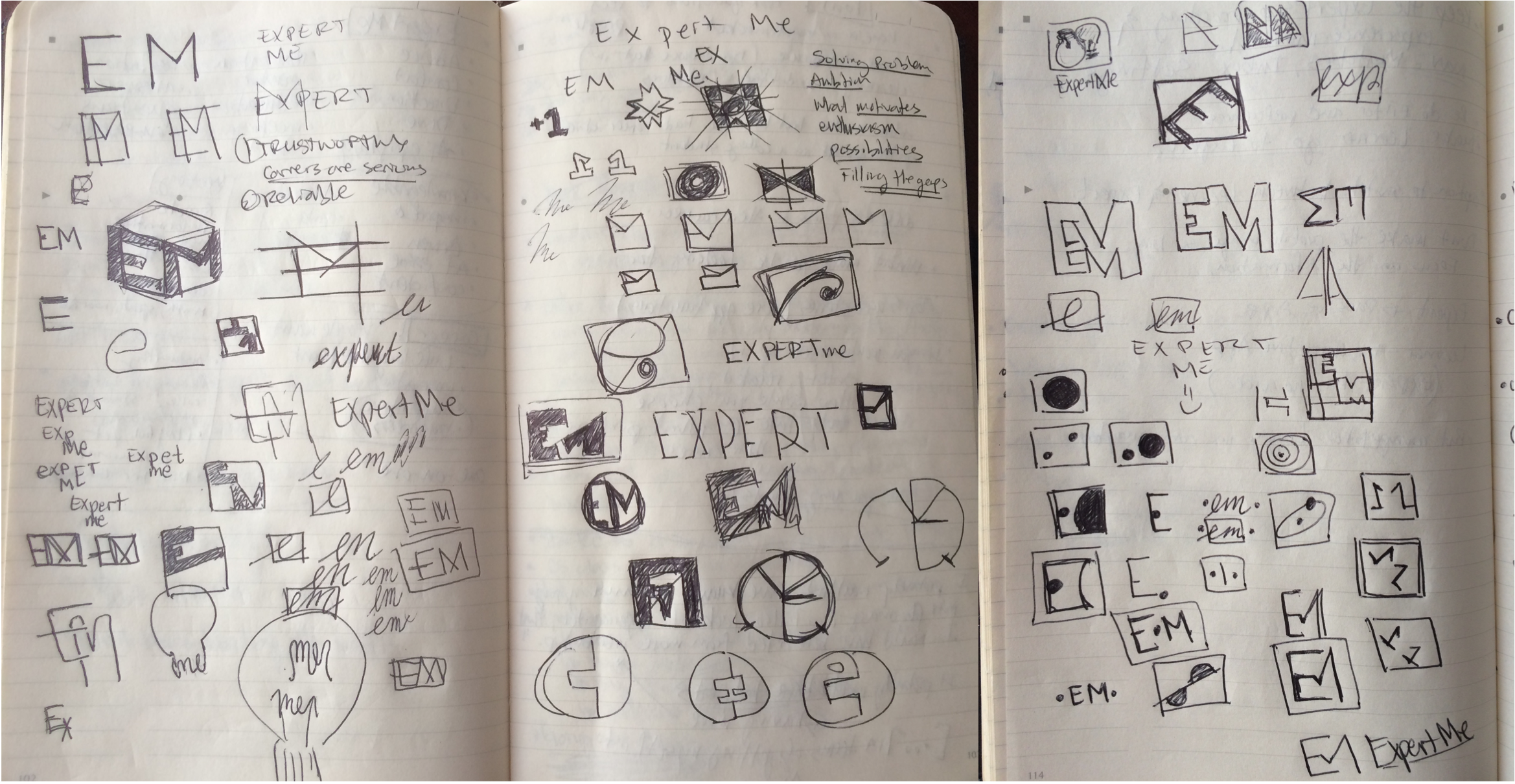 I selected Gotham in multiple weights as my typeface for its elegance and readability for both display and copy type. Choosing Gotham in multiple weights also provided me with a way to show contrast while maintaining the cohesiveness throughout the application I was looking for.

For the color palette, I chose six primary and accent colors, and another six colors for text and background color. This was a necessary step to account for both unique flows for the Learner and Expert. Both user flows needed the right balance of fun and professionalism without seeming too dry and corporate. View Styleguide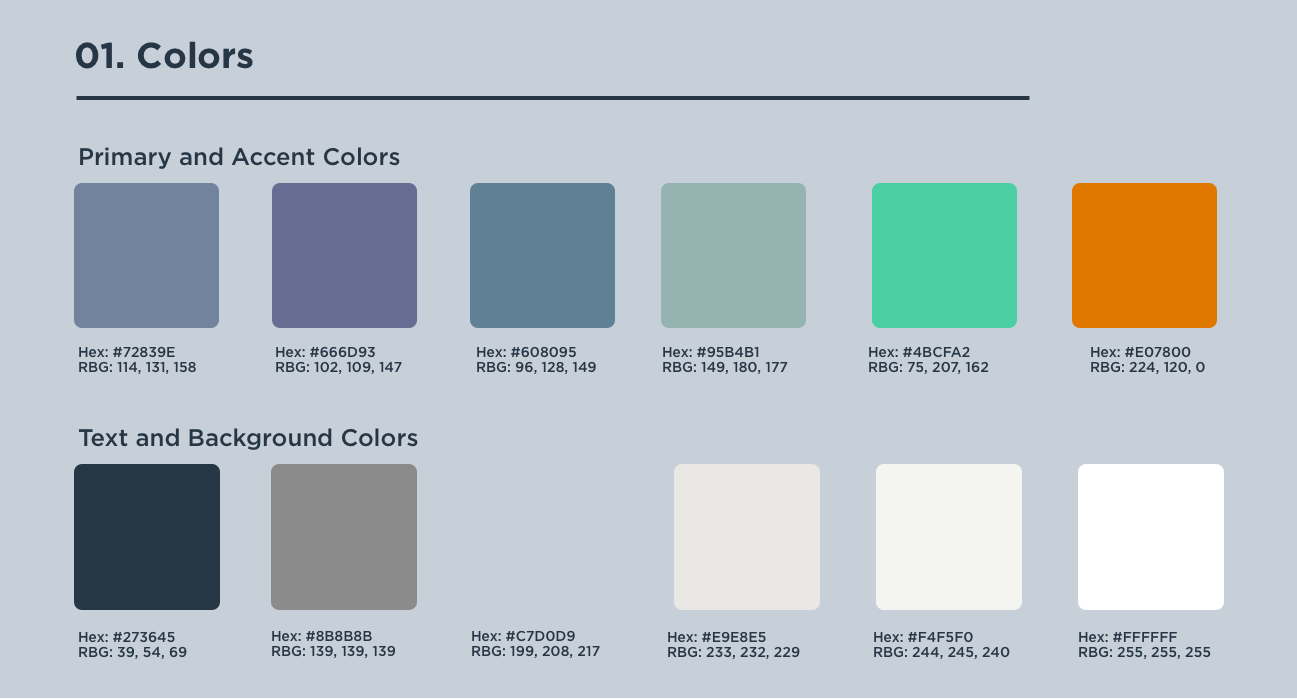 Wireframes
Using the user flows I created earlier as guidelines, I began crafting simple wireframes as a way to further fine-tune the hierarchy and experience. I used pen and paper, Balsamiq, and Sketch to further refine this process.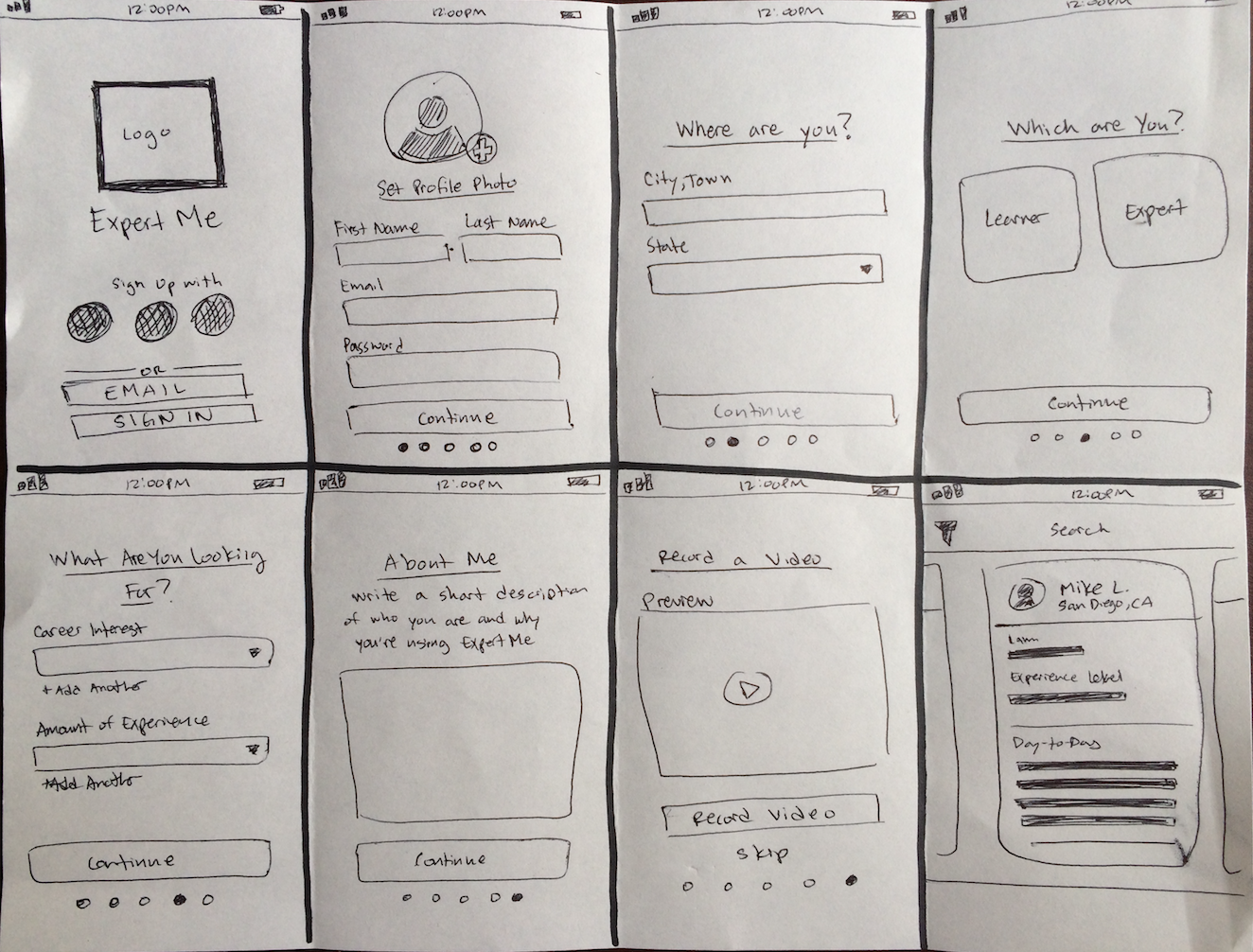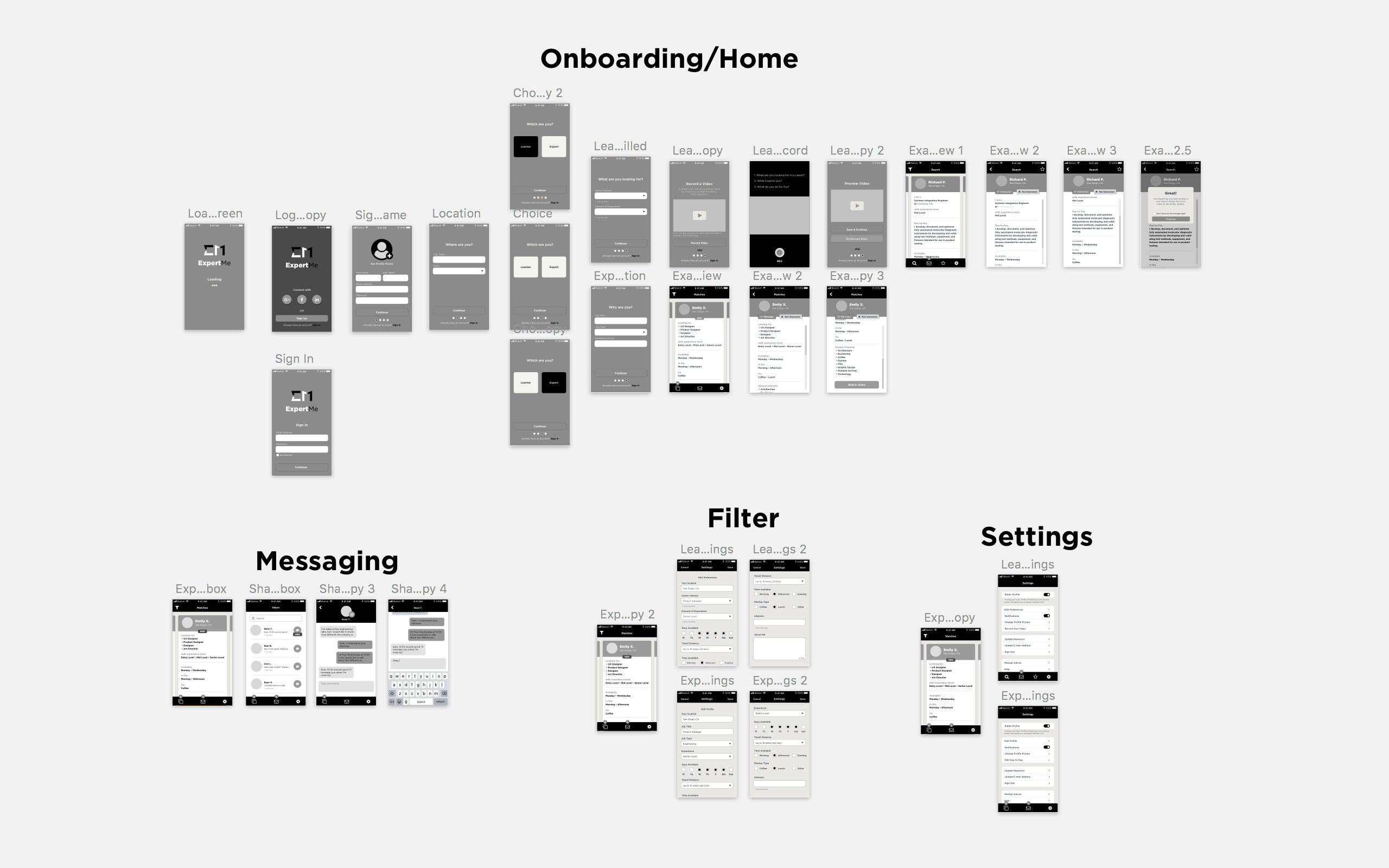 User Interface Designs
After completing low-fidelity wireframes, I began incorporating elements of the style guide into the Sketch wireframes. During this process, I looked for ease of readability and browsability, while keeping an eye on consistency with spacing and components. Once the artboards were completed, I exported my work to InVision to create a clickable prototype for further feedback and user testing.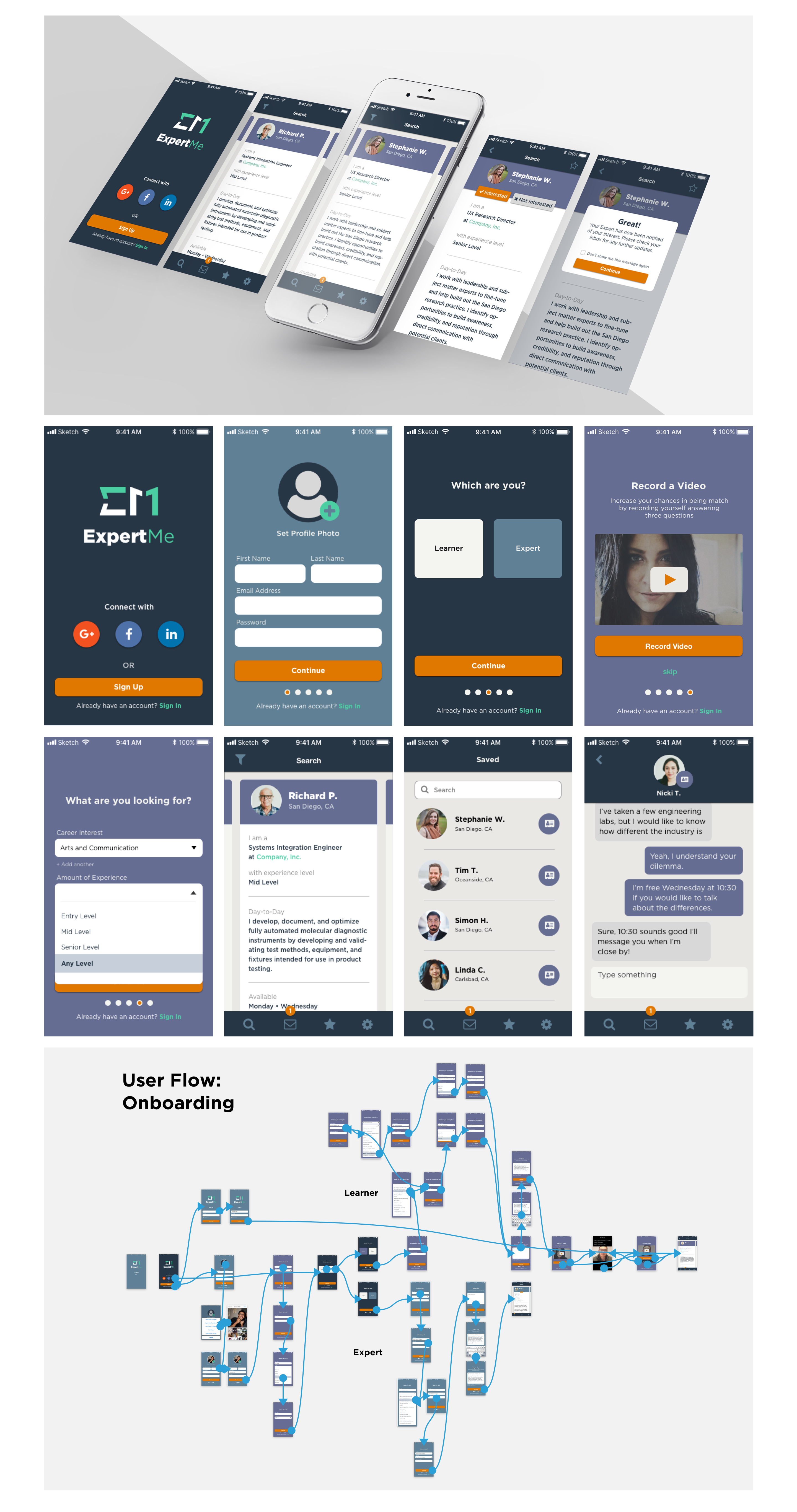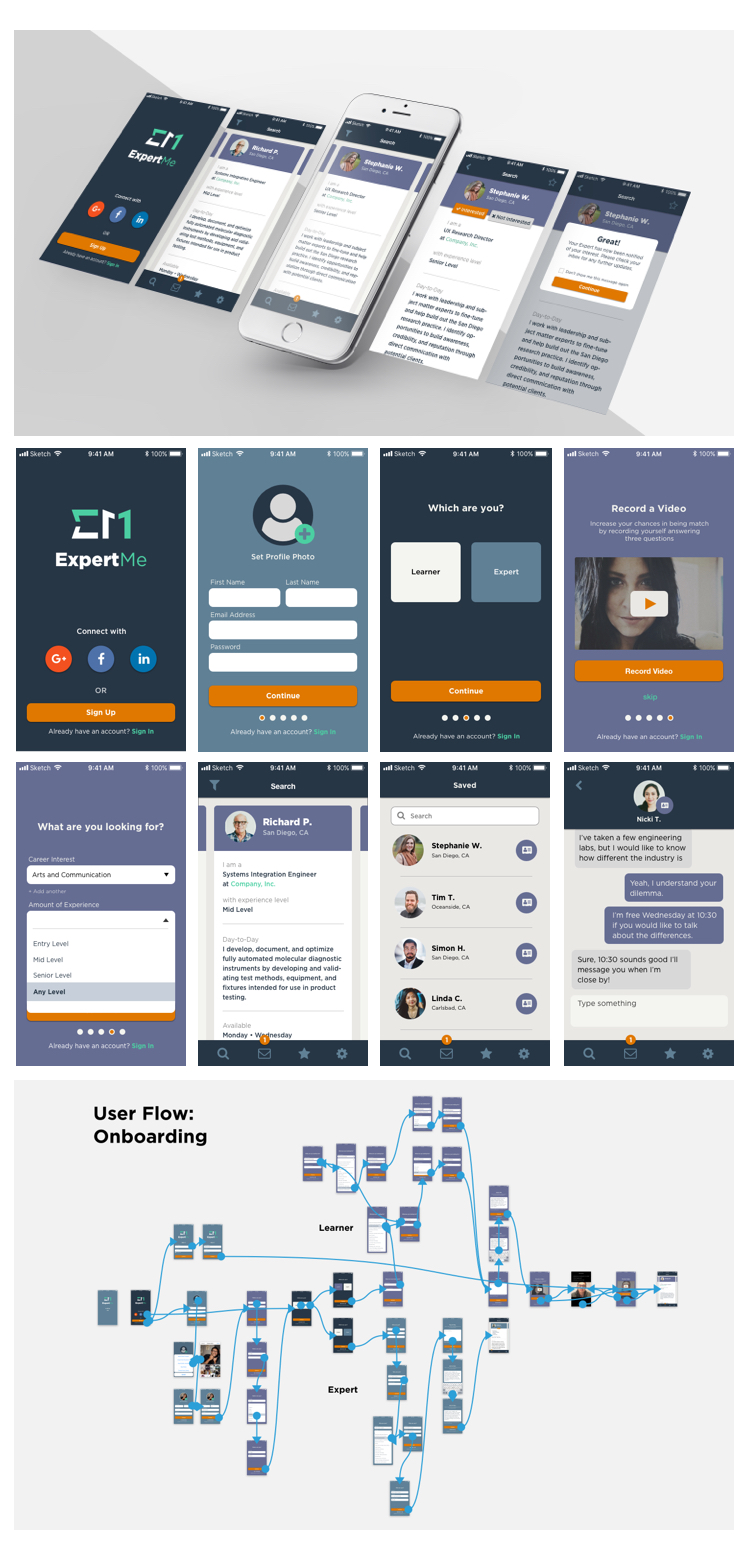 User Testing Results
An InVision clickable prototype was used to test the user's ability to navigate the on-boarding process, and to see if they were able to match with either a Learner or an Expert once logged in. I recruited young adults around 25-30 years old to complete filmed surveys with usertesting.com, and also conducted in-person testing for further feedback.

Overall the participants found the product intuitive and easy to use. They were able to sign up using social or email accounts as a Learner or an Expert. Once logged in, participants were able to quickly understand the purpose of the application and began interacting with the search and messaging features. One participant did describe the aesthetic as "clean and professional, but unremarkable," so I replaced the muted purple I originally had for the Learner's user flow with a more vibrant hue to create a livelier experience. Luckily, other participants described the color palette as approachable and professional. Additional comments were that the prototype was smooth, had clean spacing/formatting, and that ExpertMe was a "cool concept."

Learnings
RESONATE WITH YOUR PRODUCT
As someone who has switched careers, it was an amazing experience designing a product that I could feel the impact it can have on an individual. On top of that, receiving positive feedback from users, who also resonated with the concept, became a great motivator. This type of creative-to-customer feedback is why I find UX design so important in today's society.
MORE IN DEPTH USER STORIES
Tackling a product's two-sided market required observing the "how" and understanding the "why" each user would interact with the application. I also needed to decide what features were necessary for each end-user to ultimately meet someone, either a Learner or an Expert. This involved many iterations of user flows, wireframes, and mockups, but were ultimately beneficial in creating a product worth while for all types of users. A more in-depth user stories could help streamline this process by roadmapping the MVP and next steps.
GET FAMILIAR WITH APPLE'S HIG
Learning more about Apple's Human Interface Guidelines, I started to consider a developer's point-of-view when creating a MVP. There will be times when using an existing UI will be better than designing a new one. In ExpertMe, the "Add Profile Photo" and "Record and Watch Video" features were sections where I opted to use the iPhone's OS/UI over my own. In doing so, the project will save time overall with design and development.
Credits
YEAR
2017
CREATOR/RESEARCHER/DESIGNER
Steven Oey